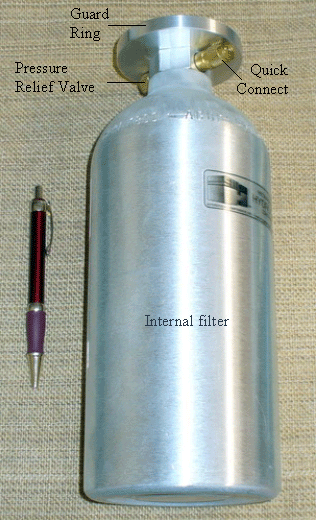 Specifications:
Hydrogen Capacity: 910 standard liters (31.96 scf)* Discharge Rate: (See Note 1)
Recharge Time: ~ 2 days (See Note 2)
Cylinder Diameter: 4.5 inch (114 mm)
Overall Length: 11.3 inch (287 mm)
Mass: 14.8 lb (6.7 kg)
Destructive Proof Test: >7200 psig (490 bar)
Pressure Relief Valve Set: <550 psig (37 bar)
Materials: Aluminum with Brass Fittings
Note 1: The discharge rate depends on many variables. HCI can help you select a SOLID-H™ metal hydride alloy and hydrogen container(s) that will meet your hydrogen flow requirements. In general, you should not expect to empty the entire hydrogen capacity in a matter of minutes. Hours are required to withdraw 90% or more of the hydrogen capacity from a standard** metal hydride container. The largest SOLID-H? containers require days to discharge completely.
Note 2: The specified recharge time is for cooling by still air at 20íŠ and the charging pressure specified in the SOLID-H™ manual for Alloys A, L, M or H. A fan will shorten charging time.
*Absolute capacity at diminishing rate for Alloy A. With Alloys L, M or H the absolute capacity is decreased to 819 standard liters (31.14 scf).
**It is possible to discharge a metal hydride in a matter of seconds. This requires extraordinary heat transfer enhancement inside and outside of the container. HCI can provide heat transfer enhancement to improve the charging and discharging rates of our SOLID-H™ containers.